There are two ways that you can verify your identity:
Online verification
Manual verification
Please note that online verification is only available to Australian citizens and residents.
ONLINE VERIFICATION
At the Lott we have tried to make the process of verifying your identity as simple as possible using VIX Verify's GreenID service. GreenID is a leading identity verification service within Australia and abroad and ensures privacy and protection of your personal information.
When creating an online account either through our website or mobile apps, we will attempt to automatically verify your first name, surname, date of birth and residential address against a number of background sources. If the details you signed up with match the background sources, your identity will be automatically verified and no further action will be required by you.
If your details didn't match during registration, you can still complete verification of your identity online from within your account.
To complete online verification, follow the articles below for detailed instructions on each ID source:
If you would like to pause the verification process you can select 'Save & Complete Later' from the ID option drop down menu.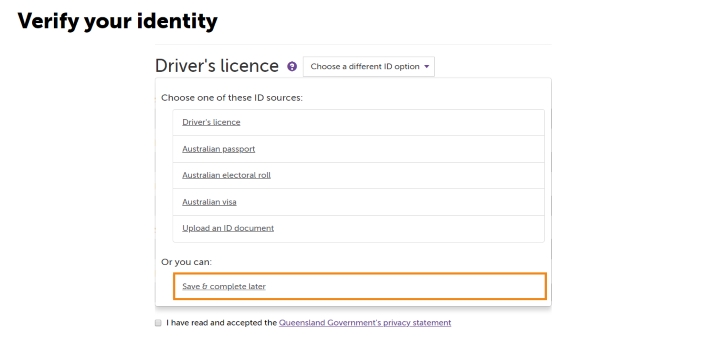 You can resume at any time by clicking the Resume button.

MANUAL VERIFICATION
If you were unable to verify yourself online, you will need to verify your identity by providing additional documents. International customers will need to supply certified documents to verify their identity.
For more information on this process, please refer to the below article: